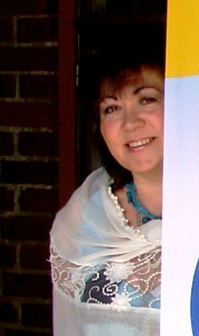 CURRICULUM VITAE


Natalia Kaleva
Painter, interior designer, Visual and Teaching Artist
Born 10.04. in Russia.
Lived in Finland since 1992.
Finnish citizen since 1999.
Artist of the Year in Kristinestad


Art Education
1989-1992 Art School, Moscow, Russia, visual artist
1989-1992 UNESCO`s Design Center, Moscow, Russia, interior designer
1994-1995 TEAK Oy Teuva, international decorator, Finland
1995 Rycotewood College, Oxford, England, art and design education.
1997-1999 University of Jyväskylä, art teacher
1996 Russian decorative painting, Petrozavodsk, Russia
2003 Oil Painting, under the leadership of Professor A.Mazhuga, Herzen University, St. Petersburg, Russia
2003 Watercolor and pastel, teacher K.Potshtennaja, Herzen University, St. Petersburg, Russia
Group Art Exhibitions
2013 WATER - with Canada, Wanha Villatehdas, Hyvinkää, Finland
2013 "Finland and Italy in Europe", Italy, Novello
2013 European Artists Association's Member and the European Cultural Association ART 20-exhibition, 20.7. - 1.9., SRK-talo, Renko, Finland
2013 Summer Exhibition 2.6. - 4.8. Villa Armas, Kangasala
2013 'Emotions' - Ars Nova Botnica art exhibition, from 1 to 31.7, Orrela, Teuva, Finland. N.Kalevan "Joy" - the best work.
2013 Summer Exhibition, Gallery Spectra, Kristinestad, Finland
2013 Romantic art - an exhibition from 5 to 11.8, Spectra Gallery, Kristinestad, Finland
2013 Tampere Art Navigation, Finland
2013 "Readymade" - Hella-Gallery, Kauhajoki
2013 "Portrait - King of visual art", Spectra, Kristinestad
2012 "Finland" - Art Exhibition in Pushkin Museum, Moscow, Russia
2012 N. Kaleva's oil painting course art exhibition, KRS
2011,2012 N. Kaleva's FengShui - course art exhibition, KRS
2011,2012 Art Association Spectra exhibitions
2010 International Art Exhibition, Art House Spectra, Kristinestad, Finland
2010 Art Association of Exhibitions Spectra
1994, 1995, 1996, 1997, Ars Nova Botnica - art exhibition, Teuva, Finland
1995 art exhibition Seinäjoki Art Hall
1995 Kauhajoki Art Association Year Exhibition
1996 Kauhajoki Art Association Year Exhibition
Solo Exhibitions
2013 "Autumn Fantasy" audio-visual exhibition, Gallery Spectra, Kristinestad, Finland. Music - Ville Kaleva
2013 "Catwoman Kissanpiiskaajankujalla", Kristinestad's library, Finland
2013 "Catwoman in the seacity," Kaskinen, library, Finland
2012 "A world of color," Peräseinäjoki
2011 "City by the Sea", Kristinestad
1997 Kauhajoki, Finland
1992 Moscow, Artist's House, Russia
Other artistic activities
N.Kaleva published a picture book of poems, "Sea City enchantment" 2013, ISBN 978-952-93-2634-1
Columnist, newspaper - Ykköset, 2014 - >
Columnist, newspaper - Suupohjan Sanomat, 2008-2012
Write articles for the Finnish-language magazine "Venäjän Aika" since 2006

Awards / Prizes
The Artist of the Year 2014 in Kristinestad
Natalia Kaleva's "Joy" is winner "The best work" of Ars Nova Botnica 2013 - art exhibition 'Emotions'
Finland-Russia Society Ladno award meritorious activities of Russian culture and the arts as an intermediary, 2007
Memberships
The European Cultural Society
Art Society Spectra
Finland-Russia Society / cultural exchanges with the 1996 ->, chairman since 2001 ->
Works in Collections and Public Places
The City of Kristiinankaupunki, Helsinki In Finland and in Russia, Italia, Kanada
Visual Art Teacher
Arts classes for adults in South Ostrobothnia of Finland (30 group, about 270people), 2000-2014
The Primary School of Kristiinankaupunki and Kaskinen (art lessons ) 2014
Junior high school and Swedish High School of Kristiinankaupunki (art lessons ) 2014
Contact information
Natalia Kaleva
64100 Kristinestad, Finland
+ 358-45-6090880
natalia.kaleva@gmail.com
YouTube: www.youtube.com/user/nataliakaleva
Facebook: www.facebook.com/ArtistNataliaKaleva